ATTENTION! Apply for Pilates Freedom and receive access to:
8 Ways To Amplify & Accelerate Your Success As A Pilates Instructor
Excited to get started? Fill out the application below. * Spots are limited.
Still have some questions? Scroll down to learn more about the program. 
Pilates Freedom – Turn your passion for Pilates into a lucrative career!
The 22-week group training program will ignite your journey to becoming a
Pilates Instructor that has a lucrative business transforming students' bodies.  
Are you looking to find a more fulfilling job?
Is this you?
What you're doing during the day is leaving you feeling stuck, trapped, unfulfilled, frustrated, or bored.
Maybe you've done all the things – the 9-5 job, the house, the car,  insurance, 401k,  job security…
But at the end of the day, you don't feel satisfied? 
Are you ready to….
Make money from the comfort of your home

Have job offers & studios lining up to work with you

Confidence to plan & teach a Pilates class

Know you're helping the person you're working with while you grow and enjoy it

Start and grow a lucrative business from anywhere in the world

Help others transform their bodies while transforming your own 

Gain the confidence to work with virtually anybody

Have FUN with your life! 
Imagine instead….
Waking up excited to get to work!

Getting in the best shape of your life and helping others do the same 

Finding joy in life every day  

Creating skills for a long, lucrative career 

Choosing when you are going to work or not
Turn your passion into a lucrative career!
Everything you need to blossom into an amazing Pilates Instructor.
You too can have a job you LOVE where you can help other people!
You'll learn all the classical Mat Pilates as well as contemporary variations.  And you'll know when to use each!
This clientele needs special programing and we'll give you all the tools to be successful working with them!
Classical and contemporary Reformer along with the understanding of when and why to modify and vary the exercises – you'll even get to create your own exercises!
During this special time, moms need to take care of themselves and you'll have 7-time mom, Katrina, to make sure you are confident!
Join our Pilates family!  You'll have forever access to our forum to ask questions and connect with other instructors – you will NEVER be alone!
You'll learn how to effectively layer props in order to make exercises easier AND harder – small balls, foam rollers, bands, magic circles, and pinkie balls.  
You'll know more than just how to "get through" – you'll know what to say when and WHY – and your retention rates will go through the ceiling!
The body will come to life as we discuss it all within the context of the exercises.  You'll have the opportunity to build the muscles out of clay onto a skeleton too!
Hear what our students say...
You're a smart girl and you hate being trapped behind a desk.  You know you are not satisfied with your current situation but aren't sure what to do about it.  
You've been in this rut for a while now and are ready for something different.  
You want to help people but you want to have control over your schedule.  And let's be honest, you'd like to make some money in the process too.  
See, most people don't know that teaching Pilates allows you the schedule freedom, money freedom, and life freedom you're looking for.
And I have to say, there are a lot of Pilates teacher training companies out there nowadays, but this program is completely different than any other. 
I've spent over 22 years training thousands of instructors and in this innovative course, I've worked out all the kinks where students have problems.  
I currently live in rural Idaho and train clients and students online as well as own a studio in Scottsdale, Arizona.  
This is my happy place and I'm excited for you to find your own best life teaching Pilates! 
Now it's time for me to teach YOU how to do the same thing because I truly believe you've got the potential.
This training is perfect for you if you:
Want to be the best you can be

Are intrigued by the body and how it works

Enjoy being around other people

Want to have variety in your life

Enjoy movement

Are a bit of a perfectionist

Love helping others

Enjoy putting the pieces together and solving problems

Don't believe in doing things part-way

Enjoy learning new information

Want to enjoy your life and not be a slave to your job

Are ready for a new challenge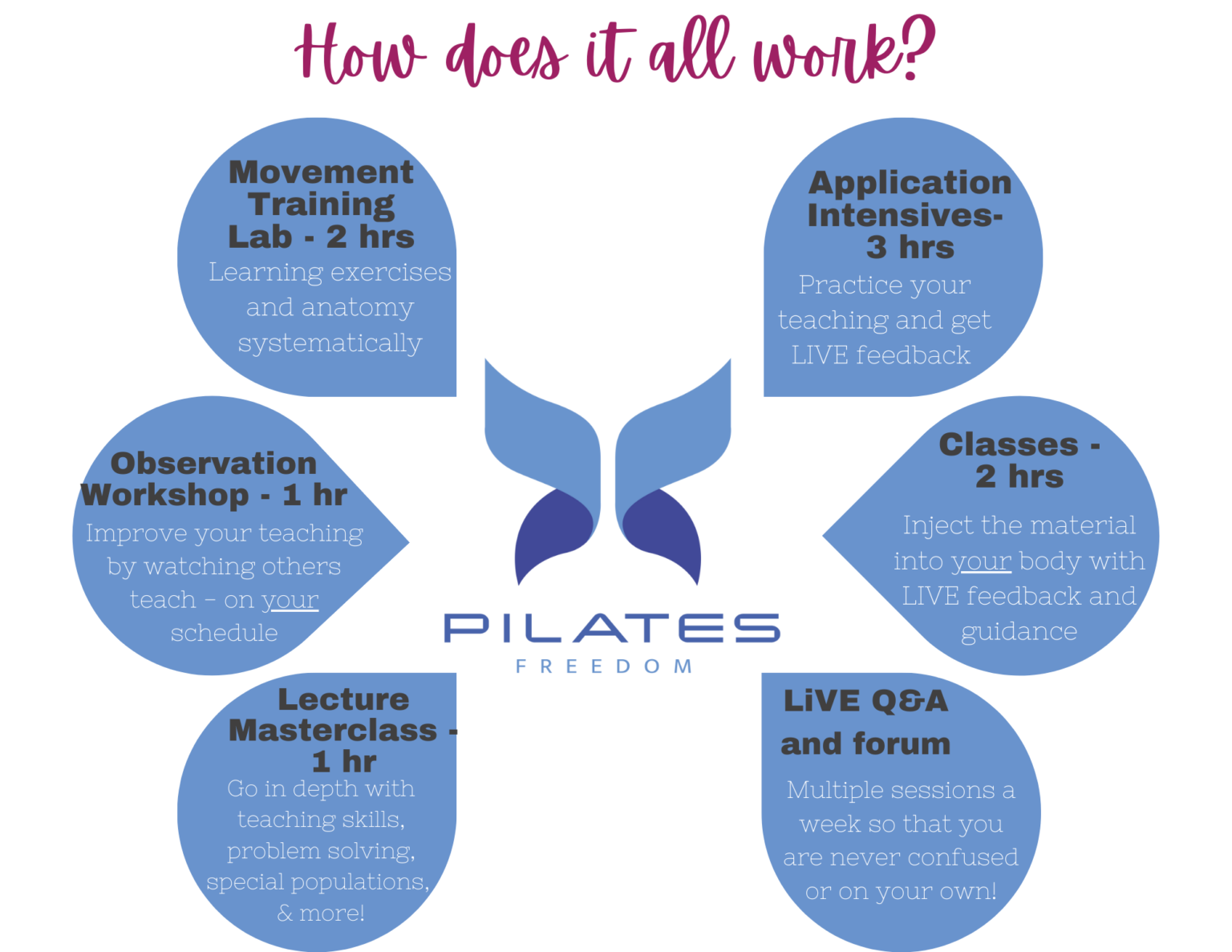 "The course fully exceeded my expectations and was so helpful and inspiring! Katrina Foe has so much knowledge and her teaching method and explanations were absolutely terrific. I learned so much!"
"Katrina really made the material "come to life." Her verbal and manual cueing are impeccable and she helped us take what we were learning to an even deeper level."
"The teaching materials are excellent! The quality and quantity of pictures, instructions and details are so helpful and so well done. The course was great. Katrina Foe was, as always, a wonderful instructor."
"The class was excellent. The explanations were clear and thorough. Pace was very good. Teacher was outstanding. I would take any class she taught."
"Katrina is a fabulous teacher whom gives more information than the even the book. She is constantly giving extra modifications to make the exercised both easier and harder. I would highly recommend her to anyone."
"Katrina did a fantastic job teaching us the material. She is very patient and understanding and she has a great energy level that is contagious. I was very happy with the course and I am looking forward to the next level. Thanks,"
"I learned a lot from Katrina. She broke down the moves into do-able progressions that can be used as independent exercises. Katrina is very encouraging and professional!"
"Katrina Foe is an excellent instructor and makes the learning fun yet focused. The material and format of the class is good and flows well."
"LOVE LOVE LOVE THE WHOLE PROGRAM!"
"Katrina Foe was an incredible teacher. Her teaching style was easy to understand and implement. The course was above my expectations. Thank you!"
"The manuals are very well written and the exercises are well explained & photographed. Katrina's teaching is phenomenal and her ability to make the material understandable on a multitude of levels greatly enhanced my learning experience."
"Katrina is an excellent teacher. She is very good at sharing her knowledge and many years of experience with her students. She's excited about Pilates and that energy comes across."
"I enjoyed the format of this class VERY much. The information was presented clearly and the hours flew by. Katrina was a fabulous teacher!"
"Katrina was absolutely Great!! She is very knowledgeable and made me feel at ease! She was so friendly and welcoming that I really took away more from the class than just Pilates - I truly had a great experience and am looking forward to the next level!"
"Katrina is an excellent instructor and very knowledgeable anatomy and kinesiology. Her interaction with students (at all skill levels) makes the material very retainable."
"Loved the format of the class. It was very helpful the way she went through the exercises - demonstration, then we talked through the exercise and then we all did the exercise."
Frequent Concerns & Questions
When you're interested in Pilates teacher training you should ask LOTS of questions to fully understand the process and end result you will be getting
1 year Pilates Together membership
Ongoing Q&A, new choreography, teaching tips, guest lectures, and connecting with your fellow instructors –
You will never be alone!
We're excited to help you grow a strong Pilates business! 
We're going to give you access to the top business experts so that your business is strong and you are confident!
This is not included in any Pilates training program and is easily worth as much as the program itself, but we are committed to helping you succeed so we're giving it to you for FREE!
Multiple teacher trainers means hearing different ways to cue, more Q&A opportunities, and more mentors.
Pilates Instructors Trained
Since 2001, we have trained Pilates instructors all over the world in our comprehensive foundational training, online courses, continuing education workshops, Pilates conferences, and more.
This program includes pre-Pilates exercises, mat exercises, small prop exercises, and Reformer exercises.
Are you our next Successful Graduate?
Invest in yourself NOW in order to get your new career started!
YOU OWE YOURSELF THIS MOMENT
There are limited spots in the classes so that we can give you the attention you deserve –
Reserve your spot now!